52
It has been difficult to choose three more machine embroiderers, mainly because most of those who caught my eye used machine embroidery alongside hand work, and multi-media.  In the end , I looked at four: Alice Kettle, who seems to work solely with machine, Alysn Midgelow-Marsden, who uses machine with mixed media, Meredith Woolnough and Carol Naylor, both of whom only use a machine, but seem to restrict their output to one genre of work.  Alice's work is on the grand scale, Alysn is very idiosyncratic, Meredith's is very delicate, and Carol uses colour in a strong and powerful way, so all different.
Alice Kettle
I first came across Alice Kettle (born 1961) at the Knitting & Stitching Show, when I think she was the Embroiderers' Guild Scholar, taking a postgraduate course at Goldsmith's College.   She is now a Professor of Textile Arts at the Manchester School of Art, Manchester Metropolitan University.
She was the first person I remember who purposely 'warped' the fabric, usually calico, by the heaviness of her stitching.  At that time, stitchers were encouraged to use a ring to keep the finished work flat, as without extreme care, the work would pucker and shrink the background unevenly.  Alice has worked on a number of large commissions including a frontal for the Chapel of the Holy Sepulchre at Winchester Cathedral in 1994,three frontals for Gloucester Cathedral in 1998; 'Looking Forwards to the Past' in 2007 for Winchester Discovery Centre, and in 2015, 'A Map to the Future' for the Lloyd's Register of Shipping's Global Technology Centre at Southampton University, where they specialise in Ship Science and Oceanography.  She is currently working on a project about the world Migration crisis 'Thread Bearing Witness' featured in the journal Embroidery issue September/October 2018.
Alice works on calico with minimal preparatory sketches, and little outline on the fabric. Her work is allegorical and symbolic rather than realistic, and she uses free machine stitch, treating her machine and threads as a painter would use a brush and colours.
Allegory
Looking Forwards to the Past
Lotos Eaters
Narrative Line
Chapel of the Holy Sepulchre, Winchester Cathedral
53
In the style of Alice Kettle
Sketch
Back
Front
I'm not convinced by this, but it seems to be how Alice works?  Polycotton with viscose threads with a felt backing.
54
Alysn Midgelow-Marsden
Alysn is based in New Zealand, although she has science degrees from UK universities, and uses her scientific background as a foundation for her curiosity.  This extends to working with metals, as well as fabrics and threads, and it is for this innovation she is known and admired.
She uses non-traditional mixed media in conjunction with her sewing machine.  Her work is abstract, although mostly based on themes: Stains and Discards, Permutations – natural forms found in seeds, leaves, bark… are explored, Taniwha – native water guardians remind us of the importance of water to life.  The pieces which illustrate her book …this Lustr'd cloth… still use natural forms – leaves – but demonstrate the metal techniques covered in the book.  In an interview with the Canadian website Running with Scissors, she says:  I think that I am most interested in attempting to visualize the emotions we have or the feeling in a moment or a place rather than the actual physical look of it.  and For a while now I have been concentrating upon using primarily metals and metal cloths which have lots of very interesting properties and I suspect that this will continue, but I never give up exploring alternative media and discovering which of these can add statements to the pieces I am creating.
I have to admit that although I like her pieces, I am not tempted to use her methods: metalwork is a step too far!  However, I am looking forward to seeing her work at the Knitting & Stitching Show (Oct. 2018).  I should like to find out how she achieves some of the effects.
Copper Tendrils
Richly Stitched
The Crown Jewels gone Mad
New Directions with Angelina
Fabricated Narratives
In the style of Alysyn Midgelow-Marsden
Sketch
Back
55
Front
This isn't any more satisfactory than the previous sample: bits flung together to demonstrate what Alysn uses, but I couldn't get the stitching right.
56
Meredith Woolnough
Meredith Woolnough is an Australian artist who specialises in machine stitching natural forms onto dissolvable materials using a domestic sewing machine.  She traces the designs onto soluble fabric, and stitches over the design in layers, after which the fabric is washed away.  The spider's web result is float-mounted using pins over a neutral board, or covered in resin and suspended from above.
Describing her work to the website, Bored Panda, she says "Basically it all comes down to the way I stitch the design. I need to make sure that all of my stitches are connected so that when I wash away the base fabric it doesn't just all unravel and turn into a big mess. Over the years I have developed a way to stitch so that I know it will all hold together."
Meredith explains that it would be easy to 'Google' her subjects, but in an article in Be Inspired Vol 4 which features her work, she explains that 'it is important for me to get out of the studio regularly to stretch my legs, reconnect with nature and get the creative juices flowing'.  She says she is lucky to live near several national parks and a botanical garden so that she is able to draw from life.  However, the corals and other sea life present a problem: underwater photography can provide some help, but not, apparently, a replacement for observation and drawing.
Her work is beautiful, I should love to be able to create similar pieces, but I was glad to discover that she does insist on taking a break from such intricate work, and tackle something entirely different, but I can't find any pictures!
Ginko leaves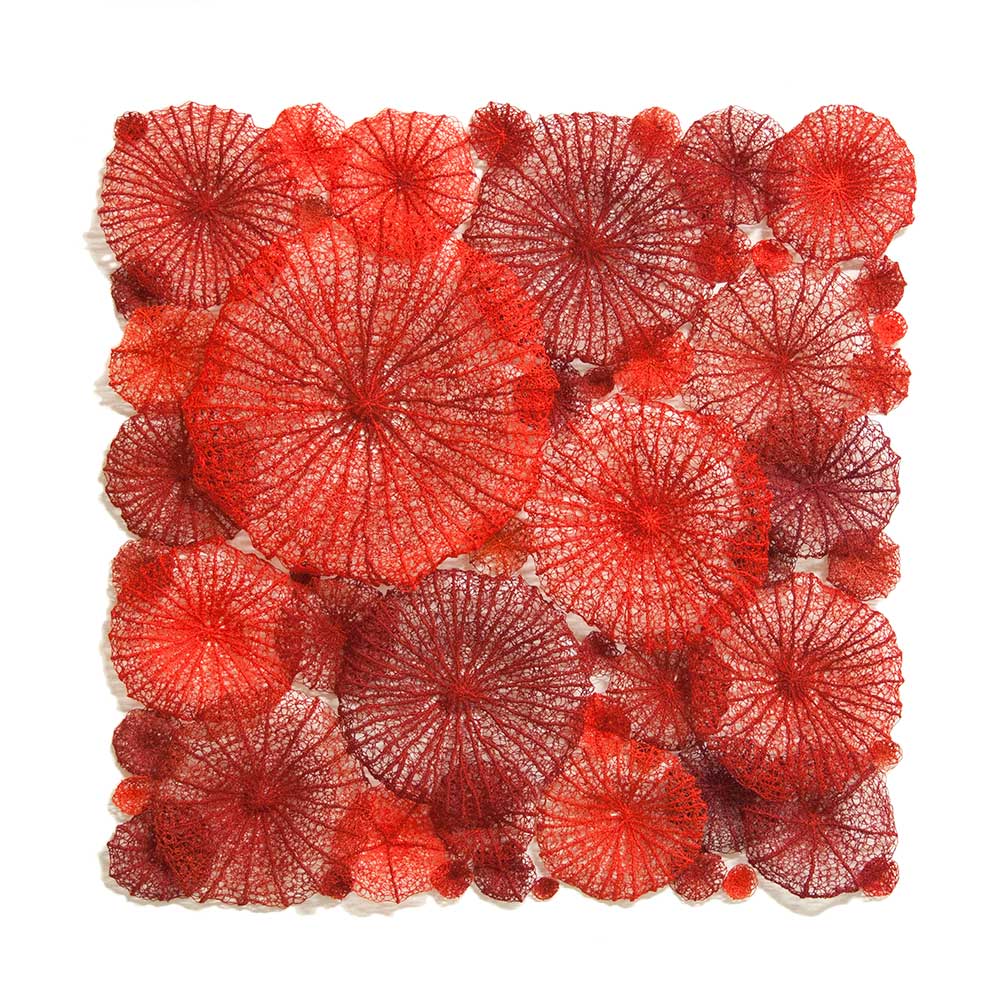 Organic Embroidery
Coral
In the style of Meredith Woolnough
Picture of Nautilus (Google)
Pinned out to dry
57
Finished sample
Romeo and viscose thread.  This worked better, probably because I've used this technique more than the others, although you can still see where I have not managed to connect all the rows of stitching.
Carol Naylor
Sussex-based Carol Naylor is a Fellow of the Society of Designer Craftsmen who studied at Hastings School of Art and Goldsmiths College.  Starting as an art teacher in Yorkshire, she is now a machine embroiderer who exhibits and lectures across the world.
Carol works landscapes on cotton duck canvas, using a variety of threads.  She uses the countryside, both at home and abroad, as her inspiration, generally working a series of pieces illustrating a theme, such as Lavender, or Poppies.  There are several lavender series from Spain, the South of France and Lordington Lavender on the South Downs.
The starting point is an in situ drawing of the landscape, next a stylised and slightly geometrical version; then identifying the colours, threads and textures to be used.  Carol uses cable stitch working from the reverse, with a heavy thread on the bobbin, and a 30 or 40 weight on top, using a couching technique, and correcting from the right side afterwards.
Threading through the Landscape
Where Poppies Bloom
River Valley
Skyscape Sunset
Diamonds and Rust
In the style of Carol Naylor
Clee Hills
Section
Colours
58
Back
58
I used calico over felt, and no ring.  I was not happy with this, I couldn't get the thick bobbin thread through the fabrics,so I used the same thread top and bottom, which didn't give the right effect, but I didn't have any canvas of the right weight.  I might have another try at a later date with the right fabric and some slightly thinner bobbin thread, perhaps coton a broder instead of perle.
Interesting.